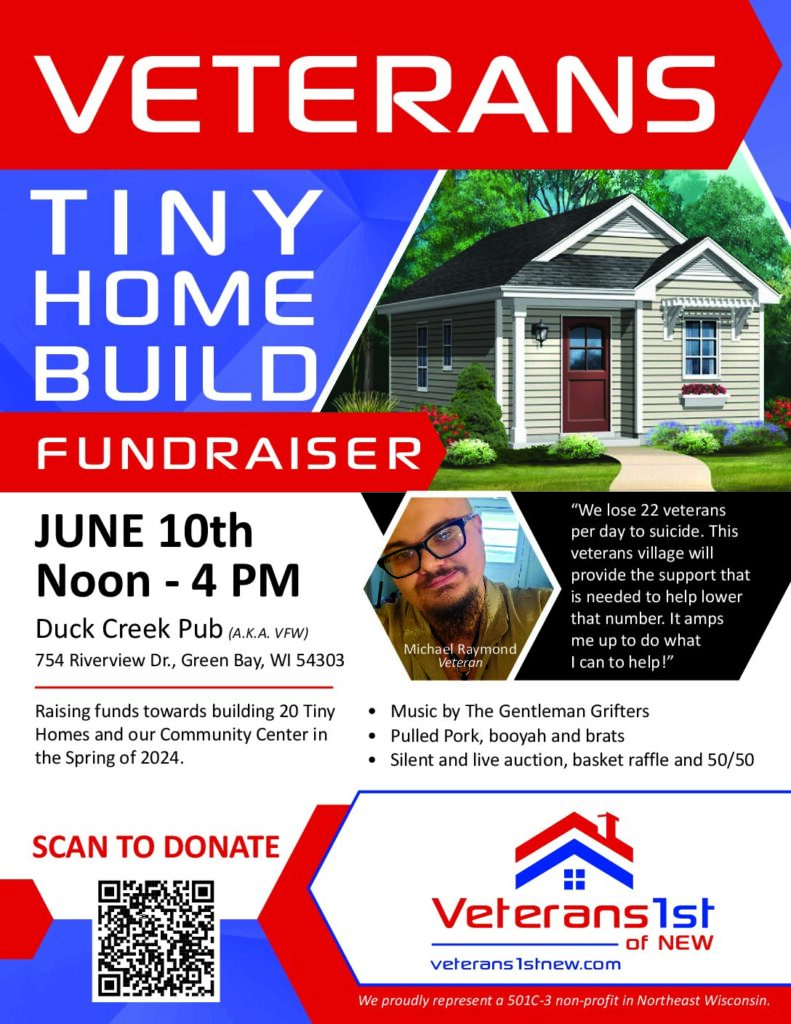 At this fundraiser, Veterans 1st was able to raise enough money to build the first tiny home that will be named the "Community Build Home of 2023" thanks to all the wonderful donations we received from all the community supporters who were at the event and some who donated after the event. We also received funds to build two other homes from Bill Oldenburg and his family. We will be doing a separate blog in honor of Bill and his family soon.
Veterans 1st of Northeast Wisconsin hosted a kickoff fundraiser event at the Duck Creek Pub (formerly the VFW) on June 10th from 12:00 to 4:00. Music was preformed by the Gentleman Grifters. The music they play is originals and eclectic covers from Classic Rock to outlaw Country. Our silent and live auction items along with our basket raffles were donated by local businesses and community supporters.
Donations
The donations we have as of April 25th are from Ahnapee Brewery, American Inn, Artageous Ink, Auto Zone, Bacon Burger Company, Bay Family Restaurant, Bay Port Shell, the Bike Hub, Blades & Boards Axe Throwing, Bode Central Gym, the Bottle Room, Brain Freeze, Brickhouse Burgers & Brews, Buffalo Wild Wings, Burkel's One Block Over, Buzz Social Bowling Ally, Cabela's, Cheesecake Heaven, Chili's, Chives, Design Ala Mode, Dirt Juicery, Dunkin, Fleet Farm, Four Way Bar, Great Harvest Bread, Healthy Pet Market, Hilly Haven, Jersey Mike's Subs, Kavarna, Kimps Hardware, Longhorn Steakhouse, Marco's Pizza, Margarita's, Military Recruitment Center, Milwaukee Brewers, Mr. Brews Taphouse, Mr. Golf, Narrow Bridge, Not by Bread Alone, Pet Supplies Plus, Pizza Ranch, Razor Axe, Replay Bar, Rustique Pizza, Seroogy's , Spork Café, Stadiumview, Starbuck's, Steve Seyler, Suamico Art Group, Texas Roadhouse, The Pancake Place, Vandervest Harley-Davidson, Village Lanes, Costco, Hy-Vee, Meijer's Foods, the YMCA, and 9th Street Wellness to name some of the donations.
Fleet Farm West generously donated five $100 gift cards for merchandise at their store. https://www.facebook.com/fleetfarmgreenbaywest/
Bacon Burger generously donated a Bacon Burger mobile party for 38 people and will cook their delicious cheeseburgers on site for your group. https://baconburgercompany.com/
The De Pere Lions Club generously donated $1,000 for our fundraiser and our cause.
Fox Communities Credit Union generously donated $2,000 for our fundraiser and our cause.
Veterans 1st of NEW is using the funds from our kickoff fundraiser to purchase discounted materials for construction of our 20 Tiny Homes and our Community Center in the Spring of 2024. Most of the construction of the village is donated from local Unions, NWTC and some community volunteers.
For more information on our construction process and partnerships please go to the following page: https://veterans1stnew.com/construction/