Auto Junkiez 4 Veterans support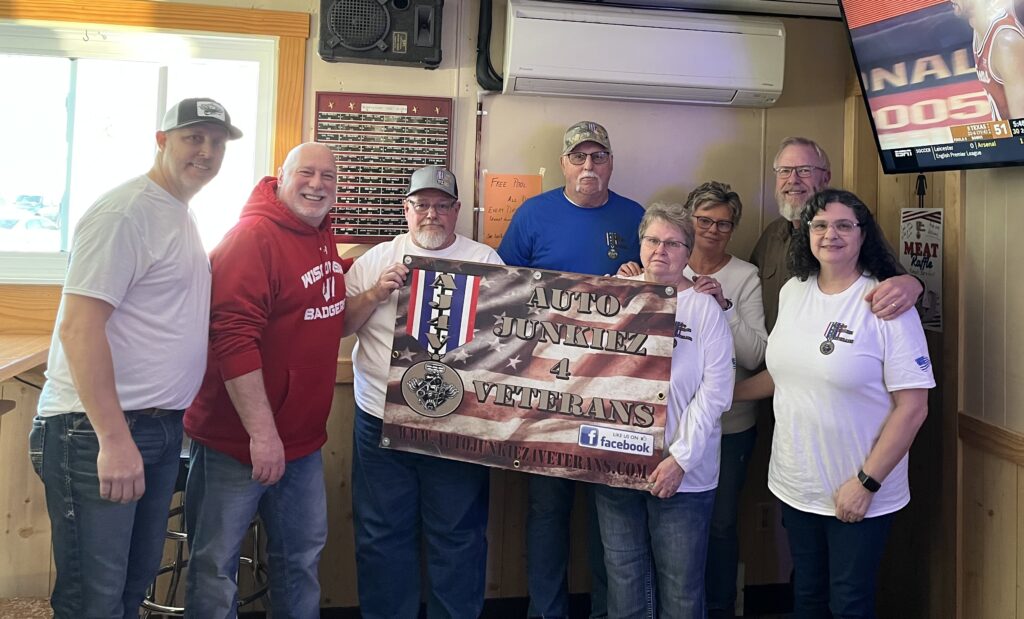 On Saturday, February 25th Auto Junkiez 4 Veterans had a very successful Meat Raffle at Kamp's Bar and Grill in Combined Locks to support their many generous donations to veterans in their community. They were very supportive of Veterans 1st and introduced us to the crowd of veteran supporters gathered there.
Auto Junkiez 4 Veterans Generosity
Roger Kriedeman Jr. and Auto Junkiez 4 Veterans continue to help veterans of all kinds and in all areas of Wisconsin. They are a non profit organization based in the Marinette Menominee area but they travel all over the state helping veterans in need as much as possible. They sponsor many different events and have offered to give all their proceeds from their Gateway For Veterans 5th Annual Car, Truck & Bike Show to our Veterans 1st Tiny Homes Village. It will be at the Gateway Bar & Grill, 706 N. Hwy. 141, Crivitz on September 9, 2023 from 10:00 am until 2:00 pm. Registration starts at 8:00 am. They will be presenting 34 Trophies--15 for Stock and 15 for Modified, a Veteran's Choice, a People's Choice, and a Best of Show award. Booyah will be sold by the Crivitz VFW.
In May, 2022 they awarded two scholarships to students of veterans at Menominee High School. They also supported the Mission 22 Fundraiser to help stop veteran suicide and will support them again this year in May at Kamp's Bar in Combined Locks. These are just some of the many things they do for veterans every day and will continue to do as long as possible. To learn more about what they do please click on the following link: https://www.facebook.com/search/top?q=auto%20junkiez%204%20veterans
The following paragraph is a Facebook post from Drew Baldridge to Roger for his selfless gift.
September 23, 2021 at 11:16 PM ·
Roger hosted me at his house on the Baldridge & Bonfires Tour and gave me this flag.. I'll never forget this night. This is the message he wrote when he gave me it!
I enlisted into the Marine Corps right out of high school for 6 years. After my enlistment was coming to an end I decided to reenlist for 4 more years. As a gift to my reenlistment I was presented with that flag that flew in front of my base for 24 hrs. The flag represents gratitude towards me for continuing to fight for our country, for those who can no longer do it, and for those who gave the ultimate sacrifice. I know Drew didn't want to accept the flag at first but I don't need that flag for the reminder. I live it everyday. Those people that haven't served our country, sometimes forget the sacrifice that was made. Well anytime Drew ever thinks it's so tough. He can look at that flag and remember there was someone that fought for that red white and blue so he can continue doing what he is doing.
I promise you Rodger I'll take good care of this flag and I'll do my best everyday to remember the sacrifices that were made to have this freedom! Thank you for this amazing gift! God bless all of our service men and women!
www.veterans1stnew.com