Donation from AMVETS Post 57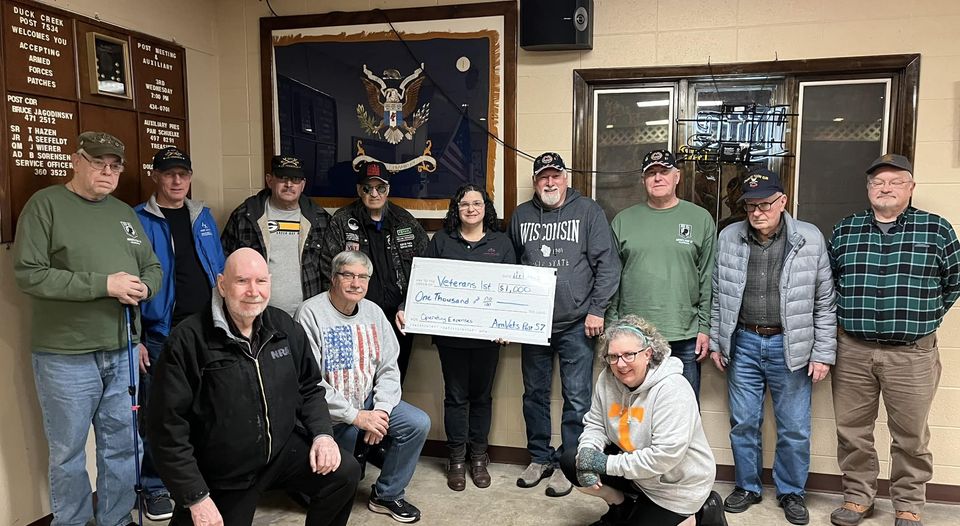 Veterans 1st donation from AMVETS Post 57. AMVETS Post 57 made a generous donation to help us with our mission to assist veterans in need of transitional and affordable housing in our area. We greatly appreciate the support of Post 57 members led by Commander Ed Koslowski, as we start our journey to offer supportive services to our veteran residents hopefully by the beginning of 2024.
We would also like to thank Post 57 member Tim Cartier for his help with the Pipefitters Union and the plumbing, heating and cooling aspects of our tiny homes and our Commons Building in our Veterans 1st Village (standing to the right of Secretary, Gail Nohr). We would like to thank Post 57 member Duane (Snake) Pierce also for being the chairman of our Outreach Committee on our Board of Advisors (standing to the left of Gail). His help in getting the word out of what we are trying to accomplish to all the groups he belongs to and to the community at large is highly valued.
How AMVETS started--When troops returned to America at the end of WWII, many used their newly earned GI bill benefit to complete a degree, a goal usually reserved for the wealthy. Veterans found they were comfortable with other veterans on campus and they formed veterans' clubs. These clubs became active in shaping American policy and on July 23, 1947, President Harry Truman signed public law 216 which granted a Congressional Charter to AMVETS (American Veteran). More information can be found at the following link: https://amvets-wi.org/about/
Howard/Suamico AMVETS Post 57 is very active in the veteran community and is involved with many fundraisers to allow them to give back to area veterans in need. They hold regular meet raffles in our area that raise money that they use to donate to area veterans activities. They also sell White Clover commemoratives at many Green Bay Packer games throughout the season. They also offer support to local Honor Flights, local veterans in Assisted Living facilities and Nursing Homes, and have had services for the residents at Veterans Manor in Green Bay among many other events. You can check our their website at: https://amvets-wi.org/amvets/amvets-post-57/
Find out more about what we will be doing to help our Northeast Wisconsin veterans in need of supportive, transitional and affordable housing at our website at: https://veterans1stnew.com/